Extra Virgin Olive Oil 3 ltr pet
Pet Bottle 3L Extra Virgin Olive Oil Los Remedios
Box of 4 units. Price by unit.
Scroll over the table to see it complete
| | AROMA | FLAVOR | BITTER | HOT SPICY |
| --- | --- | --- | --- | --- |
| EXTRA VIRGIN OLIVE OIL FOR THE REMEDIES | | | | |
| | | | | |
| OIL PDO SIERRA DE CÁDIZ DEHESA VIEJA | | | | |
| ARBEQUINO OIL THE REMEDIES | | | | |
Extra Virgin Olive Oil 3L.
Extra virgin olive oil Our Lady of Remedies, Olvera
Box of 4 units (Price by unit).
REF: 200068
Pet 3L Extra Virgin Olive Oil Los Remedios Olvera. Olive oil obtained directly from olives previously selected area and produced only by mechanical means.
This Extra Virgin Olive Oil is extracted from the native variety Lechín, wisely mixed with olives manchineel, verdial and alameño inter.
It comes from the Sierra de Cádiz, corner of Andalusia where the olive care with respect deep to the environment and still remain methods traditional collection. The result is a unique oil.
Conditions in the area are the best for the production of an oil of the highest quality; Height above sea level, collection methods and soil fertility. Then the olives from which our oils is selected out at the premises of the Cooperative Los Remedios-Picasat. This is done based on their maturity and health.
The Pet 5L Extra Virgin Olive Oil, to the same as the rest of our Extra Virgin Sierra de Cádiz, It is produced under cold extraction. In the developed under thermal conditions never determined the smell and taste of an authentic juice get to alter.
Ideal for eating raw as salad dressing and breakfast, or as a base for stews and sauces. Contribute an unmistakable personality!
Extra virgin olive This is the best selling container and which can be purchased at a cheaper price per liter.
Pure olive juice. Green gold, intense aroma of fresh fruity and fragrant, smooth and balanced to the palate.
See all our Extra Virgin Olive Oils Our Lady of Remedies here. different formats, same quality.
Produced and packaged by: THE REMEDIES PICASAT, S.C.A. OLVERA (CÁDIZ)
Now available!
oil campaign 22-23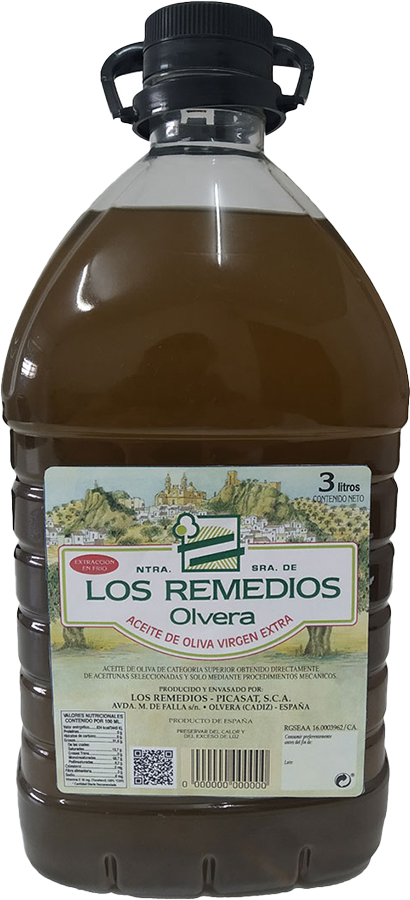 EXTRA VIRGIN OLIVE OIL 3 LTR PET
24.15€

PREMIUM EARLY HARVEST OIL
7.98€
COMPRAR
M